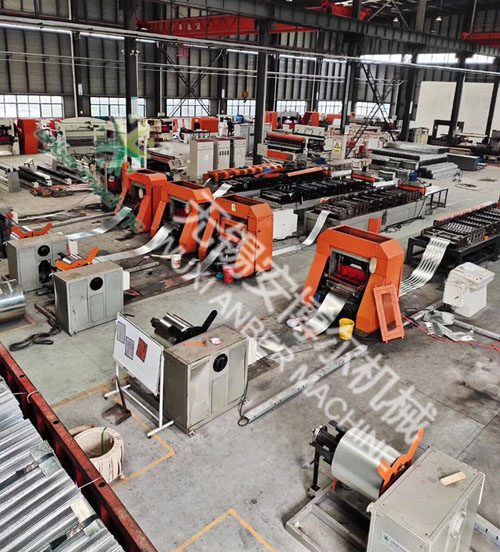 Wuxi Anber Machine Co., Ltd. was founded in 2006 and is located in Kunshan City, Jiangsu Province. It has a total area of 20,000 sqm and a plant area of about 10,000 sqm. The company's continuous efforts and innovation for many years have kept the product quality and market share at a high level in the industry.
Our company is research and development base of Chinese wire mesh machinery equipment, the key technology relying unit identified by the State General Administration of Quality and the national key high-tech enterprise. With a mechanical technology research and development center and a building product research institute, through the provision of machinery to finished products processing one-stop service.Guaranteed the production processing and technical strength, and created a comprehensive and comprehensive customer service system. Company first got the ISO9001 quality system certification in the industry in 2010, and passed the CE certification of mechanical equipment in 2013.
The products cover more than 60 categories, such as building mesh machine, expanded metal mesh machine, fully automatic mesh welding machine and wire drawing machine. At present, it has provided more than 1,000 sets of equipment to more than 1,000 construction mesh enterprises worldwide. The products are exported to Canada, the United States, India, Indonesia, Russia, Thailand, Myanmar, Vietnam, Brazil, Bangladesh, Pakistan and other countries.
After several years of development and continuous improvement, our company's mainly products are:
Building Mesh Machine:
Angle Bead Machine
: Our company currently has two types of high-speed and low-speed angle bead machine for customers to choose. After continuous research, its derivative products plaster stop bead, control joint bead and architrave bead can be replaced by punching and forming dies.
Brickwork Reinforcing Mesh Machine:
There are two types of punching type and rotary type. Punching type brick reinforcing mesh machine is efficient and easy to operate, and rotary type has higher production capacity. It can produce metal lath and brick reinforcing mesh at the same time.
Hi-Rib Lath Machine
: The produced hi-rib lath is mainly used to strengthen the wall and can be customized according to customer requirements.
Rib Lath Machine
: suitable for continuous automated production of rib-lath, with high accuracy, safe and reliable, improve the production efficiency.
Coil Lath Production Line
: High-speed expanded metal mesh slitting line has been widely used without waste.
Lintel Roll Forming Machine
:Steel channel lintel is a structural horizontal block that spans the space or opening between two vertical supports.It is mainly applicable to building systems and reinforced wall systems. It has been widely used in the international market and has a long service life.
Expanded Metal Mesh Machine
: Various types of heavy, middle and light expanded metal mesh machine and auxiliary equipment, including: automatic de-coiler, hydraulic de-coiler, two-roller flattening machine, four-roller flattening machine, straightening machine, expanded mesh leveling machine, expanded mesh leveling and cutting machine, expanded metal mesh leveling,slitting and cutting machine, expanded mesh recoiler, etc. At the same time, it can be equipped with mould design to meet customers' one-stop needs. The customer's expanded metal mesh products cover a wide range of products, mainly including filter expanded metal mesh, aluminum curtain wall mesh, suspended expanded metal mesh, architectural scaffolding expanded metal mesh, architectural walkway expanded metal mesh, fence expanded metal mesh, civil furniture expanded metal, and micro-copper aluminum foil mesh.
Mesh Welding Machine
: automatic mesh welding production line, construction mesh welding machine, mesh welding machine, PDHW series mesh welding machine, 3D truss girder welding machine, concrete pipe pile steel welding machine, cold rolling and ribbing machine and wire straightening and cutting machine, fence bender, wire cutting machine, mesh coiling machine, etc.
Wire Drawing Machine
: straight line wire drawing machine, pulley type continuous wire drawing machine, wet type wire drawing machine, vertical wire drawing machine; our company also provides customers with the design of the entire production line and supporting auxiliary equipment required for wire drawing machine production, such as well type annealing furnace, wire pointing machine, butt welding machine, descaling machine, wire pay off, spooler take-up and dead block recoiler, etc.
Gabion Mesh Machine
: also known as hexagonal wire netting machine, gabion netting machine. At the same time, we also manufacture auxiliary equipment such as warping machine, mesh coiling machine, spiral coiling machine, mesh shearing machine, mesh straightening machine, hydraulic gabion mesh packing machine and so on.
Our company can also produce other wire mesh machine: chain link fence machine, barbed wire machine, razor barbed wire machine, CNC steel bar stirrup bender, wire PVC coating machine, PVC/PE powder coating line.
Wuxi Anber Machine Co., Ltd. warmly welcomes customers to negotiate business and is willing to work with customers around the world to create a better tomorrow!